JT-Utilities
Useful helper applications for JT65-HF & WSJT-X
For problems or questions please join the HamApps Yahoo Group and post a message.
http://au.groups.yahoo.com/group/HamApps/
Starting with JTAlert 2.4.0 the new dual-mode WSJT-X 1.1 is fully supported.
Important: Existing pre 2.4.0 Wanted Alert lists not available with new JTAlert 2.4.0
The pre 2.4.0 Wanted Alert lists cannot be migrated to the new lists used by 2.4.0 (or later) and a log scan will need to be done to populate the new lists structure. Lists for JT9, JT65, any mode and digital modes for any band and for individual bands are automatically updated for each Wanted Alert type during a log scan. If JTAlert logging is not enabled, then your preferred list (band and mode tracking) will need to be manually updated as per previous versions of JTAlert. This manual update only needs to be done for your preferred mode and band tracking type.
JTAlert 2.4.13
Provides several audio and visual alert types based on decoded Callsigns within JT65-HF and WSJT-X.
Audio and visual alerts for several alert conditions

Your Callsign decoded (someone calling you)
CQ & QRZ
Wanted Callsign
Wanted Grid (by Band)
Wanted US State (by Band)
Wanted DXCC (by Band)
Wanted CQ Zone (by Band)



Automatic logging to these log types when QSO is logged in JT65-HF or WSJT-X

DXLab DXKeeper
Log4OM
HRD Log V5/6
Standard ADIF 2.2 file
MixW CSV file



Various Web Services Supported

Online XML Callsign Database lookup. QRZ.com (paid) and HamQTH (free)
Upload logged QSO to Online Logbooks. ClubLog.org and HRDLog.net
Upload all decoded Callsigns with frequency and Signal report to HamSpots.net



Works with DXLab applications

Automatic log to DXKeeper when JT65-HF or WSJT-X QSO is logged
Automatic post decoded Callsigns to SpotCollector (local spots)
DXKeeper lookup of previous QSOs with decoded Callsign
Send Callsign to Pathfinder for lookup



Supports user-selectable Sound Card
Each audio alert type has independent volume setting & wave file
LoTW and eQSL membership flagging of decoded callsigns
Band Tracking or alerts. 160M to 2M, including 60M
Disable audio alert for "Worked B4" stations on current Band
Automatic "Worked B4" flagging of previous QSOs
Scan your log to update needs lists for alerting (US State, DXCC, CQZones, etc)
Dockable to bottom or top of JT65-HF and WSJT-X window
Bring JT65-HF or WSJT-X window to front of other windows on alert activation
Auto start & close of JT65-HF, WSJT-X and other applications on JTAlert start & close
Send TX Power and current QSO partner data "Name, Callsign & No. Bands worked" to JTMacros for dynamic macros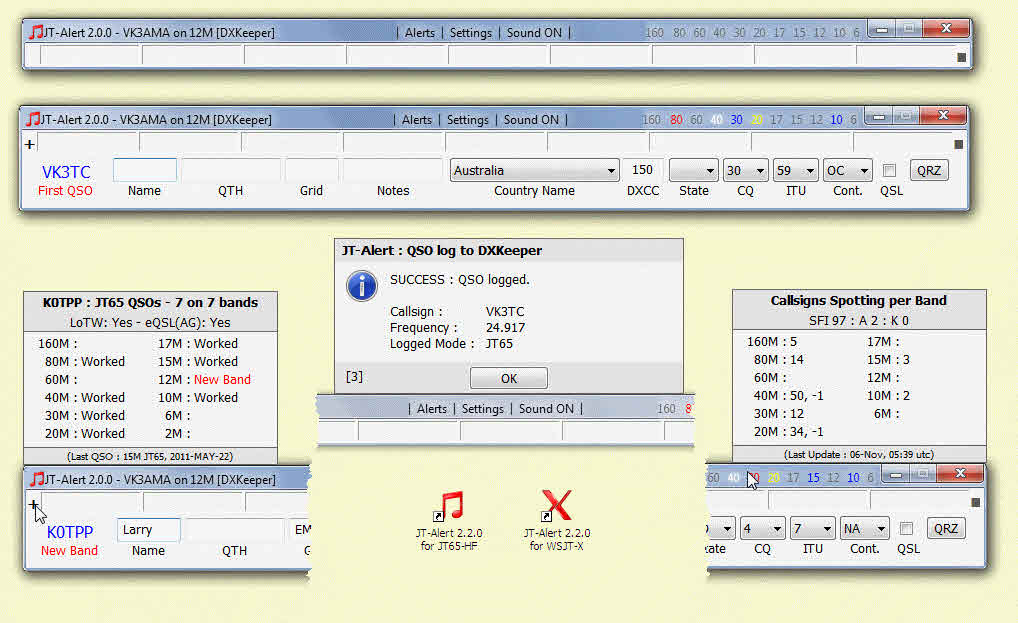 Important JTAlert-X for WSJT-X information.
There is no separate executable, only an additional desktop shortcut that will start JTAlert in WSJT-X mode.
When JTAlert-X is first run, it sets up a new configuration file exclusively for WSJT-X. Your existing JT65_HF config is safe and unchanged.
When you run JTAlert-X for the first time, it is important to open the Settings and setup your Own Callsign and the logging. Also check the Wanted Alerts to make sure they have their sounds set correctly. Note: settings you have for JT65-HF are not migrated to the WSJT-X settings so be sure to check your settings.
This new WSJT-X configuration maintains JT9, JT65A, any mode and Digital mode Wanted lists, separate from your existing JT65-HF lists. You may want to do a Log Scan to update the lists by reading your existing log.
Since the JTAlert-X configuration is independent of your existing JTAlert (for JT65) configuration, it is possible to run JTAlert (for JT65) and JTAlert-X (for JT9) concurrently.
If you wish to auto-start JTMacros in WSJT-X mode, setup JTAlert-X to start JTMacros.exe and enter "/wsjtx" (without the quotes) in the parameters field.
2.4.13 Install Instructions for first JTAlert install.

Download HamApps_JTAlert_2.4.13_Setup.exe
Run HamApps_JTAlert_2.4.13_Setup.exe to install
Start JTAlert
Visit the "Program Updates" section of the Settings Window to install the Sound and Database files
2.4.13 Install Instructions for 2.x.x upgrades.

Download HamApps_JTAlert_2.4.13_Setup.exe
Stop JTAlert if running.
Run HamApps_JTAlert_2.4.13_Setup.exe to install.
(All previous settings are saved and will not be lost)
JTAlert is now ready to run
Downloads :

Ham-Apps JTAlert v2.4.13 : Download

(size: 3.75 MB)
Support File Downloads :

Release Notes : View
If you experience problems or have questions post a message to the HamApps Yahoo Group.
Please start a new message with a subject line that reflects the question or problem.
JTMacros 2.4.13 - Included in JTAlert setup file.
JTMacros provides 16 to 31 additional "free Text" macro buttons for JT65-HF and WSJT-X

Release Notes : View
WSJT-X by K1JT
Download Latest WSJT-X release : Here
JT65-HF-Comfort by DL3VCO
Download Latest JT65-HF-Comfort release : Here
JT65-HF by W6CQZ
Download no longer available, JT65-HF project abandoned.